Happy New Year's Eve to one and all! Party plans abound I'm sure. Just please be safe and don't drink and drive.
This is a very special day for me because it is my 18th Wedding Anniversary!! That's right - we got married on New Year's Eve at 9:00pm 18 years ago. It seems like yesterday and I love my husband as much today as I did then - even more if that's possible! To my hubby - I Love You, Steve, and Happy Anniversary!
Today my post is a wood project. I love the colors that were used and the decorations aren't really my style but they look awesome so I may have to give them a try. You can always make any project your own just by using your creativity and this project is no exception. Different colors, different decorations - whatever your heart desires.
I think these are quite lovely and would be very nice gifts as well. Thanks to Tatertots and Jello for the how to! Go here to see more:
DIY Candle Holder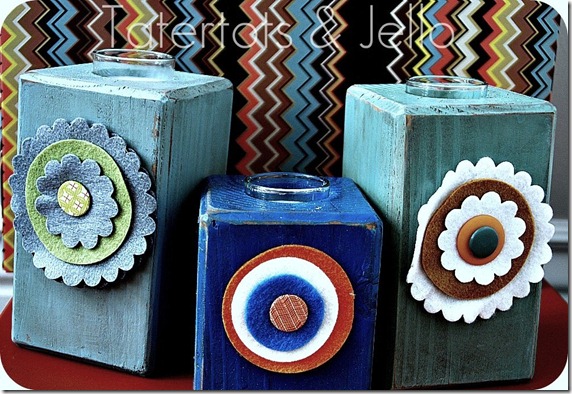 Have a safe and happy new year celebration! See ya soon!